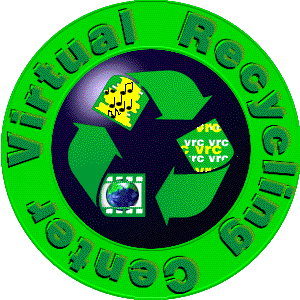 Virtual Recycling Center
Founded October, 1995
You can send mail to the recylcing center from here.

To YAV's Home Page
---
Announcing
Every have any virtual data that you were about to send to oblivion and stopped to think that maybe someone might have a use for it? This the temporary home of the Virtual Recycling Center (tm). Currently, we have two projects going that might be of interest to you.
---
The Multimedia Recycling Center
This is how it works. You have some multimedia that you are about to blast into oblivion. Perhaps it just doesn't fit in the project you're currently working on. Rather than destroy it forever, think about those people who might need some multimedia just like the data you are about to erase. Perhaps the Multimedia Recycling Center can help you out.
We are currently accepting multimedia for recycling (time-based, cross-platform Mac and Windows only, i.e.QuickTime, QuickTime VR, Director, Authorware, or SuperCard, etc.). By submitting your material to the recycling center, you relinquish certain rights in it. However, should your material be appropriated by another person accessing the center's database, you will be notified by email and the person using your recycled data will be required to credit you in any commercial use of the data.
You may request submission guidelines as well as withdrawal guidelines.
The WWW Time Capsule Project
On February 10, 2001 the WWW Time Capsule will be opened. If you have a URL that you would like to be placed in the time capsule, feel free to submit it here until the deadline (February 10, 1996). Note that we are only accepting URLs of individuals at this time (no corporations please!).
---











Graphics, text, sounds, etc.  Copyright © Christopher Yavelow  1995-7